Modern living room ideas to help you get started on redecorating your room
If you're looking for modern living room ideas to re-decorate your room, start by getting some inspiration. If you haven't already, visit sites like Pinterest, Houzz.com, Instagram, and a quick search will provide you with infinite possibilities. The journey can be overwhelming so here are 9 key steps to help guide you and stay focused when planning your living room decoration project.
1 | Take Measurements

Measure all the walls, windows, and doors so you know exactly how much space you have in each area of the room. Draw a diagram of the room noting all these measurements. If you prefer, there are lots of room planning apps and websites that are free to use. Here are some free and free trial room planners we really like:
2 | Envision Your Layout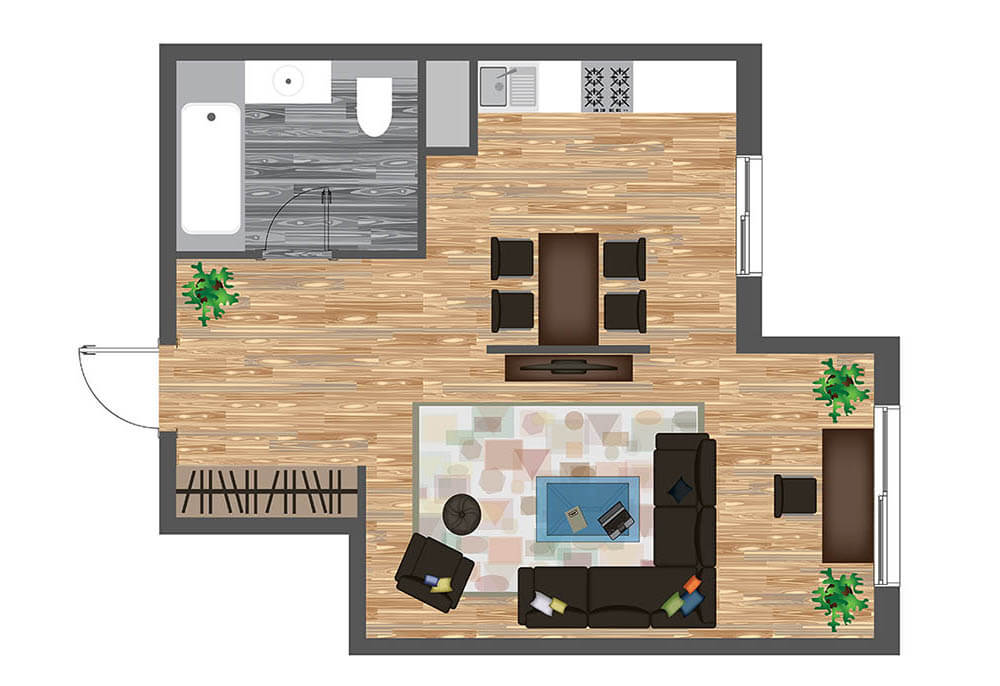 The next thing you need to consider when planning a living room interior design, is the layout. You must decide where you want your furniture to be positioned – in a central location, or to either side of a wall, or beside a door. Once you are clear on the layout, you can focus on choosing the furniture pieces that complement it. This task will be easy for some rooms, especially small living rooms. In a small room, there are fewer options for placing a sofa. In many cases, there is only one logical place for your television/entertainment center. If that's the case, you can quickly move on to other decisions.
There might only be 2 or 3 logical places to put your sofa. So, you start there and then build on that by envisioning how other pieces can be placed to complement the sofa. In a large living room, you have more options for placement so you will just have to spend some more time experimenting with your layout until you get just what you want. In a very large living room you will likely set up 2 or more seating areas.
Again, one of those room planning apps can be very helpful at this stage. Another important element of modern living rooms is the absence of clutter. Open space is good space.  Open space is luxurious and that's why so many people love an open concept. It feels luxurious. Too many pieces of furniture can congest a space so be aware of that when you are choosing your furniture and accent pieces. This can be difficult for the untrained eye to appreciate but refer back to your inspirational collection of images. You'll start to see that openness and absence of clutter probably had a lot to do with why you were drawn to that image in the first place.
3 | Choose a Style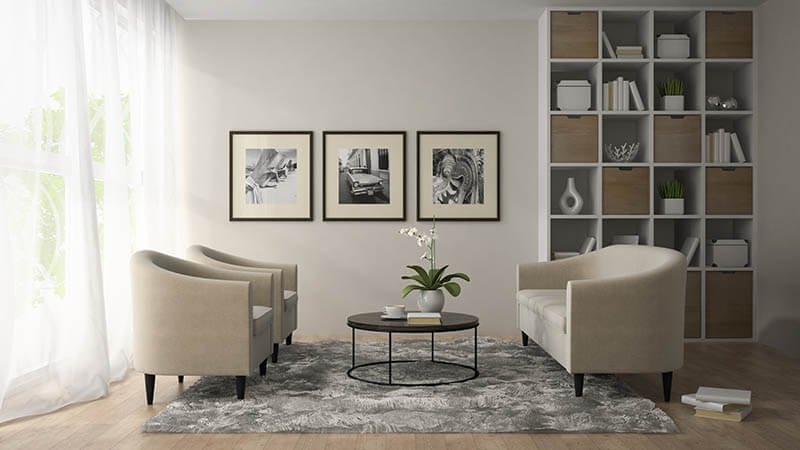 This article is about modern living room decoration but there are several directions you can go with a modern style living room. There's ultra-modern, cozy, chic, boho, mid-century modern, Scandanavian, modern farmhouse, rustic modern, and the list goes on. Hopefully, you made a style decision during your inspiration and discovery phase mentioned earlier. Modern living rooms are often very open in the current trends but what if you actually have a more traditionally structured home? Unless you plan on a renovation to take out existing walls, you will have to work with what you have and make your living room reflect your style and individuality. More about that later.
4 | Choose a Color Palette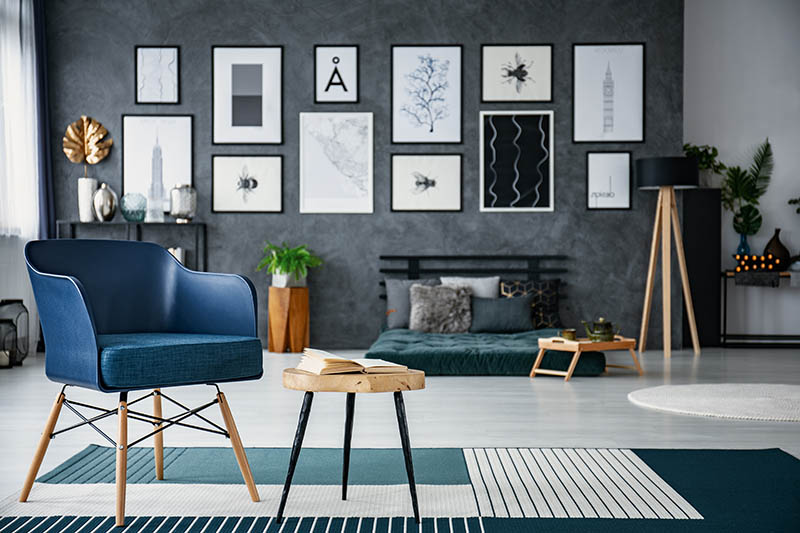 When you are choosing paint colors, keep in mind the look you want to achieve with the overall feel of the room. Then choose your color tones from there. For a casual living room, you might consider using pale, neutral tones. These would include cream, off-white, beige, and other such very light tones. A more formal living room, complete with elegant trim and crown molding, can use more intense hues, like a deep, rich brown. Consider limiting the strong hue color to a single accent wall for a dramatic effect. Choose color tones that complement each other, so the effect is not too overwhelming.
A common method of planning a modern color palette is to choose white or very light neutral colors for painted walls and bring 1 or 2 accent colors into the room with accent accessories such as throw cushions. A lighter color palette will give you the most flexibility in making other choices for your living room decor. This is also a very easy and very safe method because you can easily change those accents if you don't like them or get tired of them. This color palette selection thing is a very personality-based choice. Some people love a soft, mellow, or earthy feeling room and others just have to have bright, bold colors to make themselves feel comfortable. Once you have decided on your main color paint color and chosen the type of accessories and accents that you want to incorporate into your design, you can choose the furniture and accent pieces to complete the look.
5 | Choose a Sofa You Love
A sofa, whether it is small or a huge sectional, is going to be the largest and therefore the most important piece of furniture in the room. It's your anchor, the key piece from which to build upon. It will make all your other decisions easier. The right furniture is essential for supporting a great room. In this case, that means choosing contemporary and modern design ideas that emphasize sturdy pieces over flimsy ones. Strong materials like solid wood or steel with understated finishes are great choices.
Read the full article on our blog: RoomDecorationDIY.com