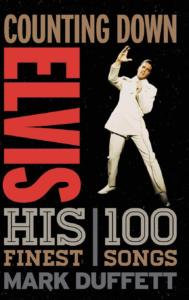 Millions love the music of the King, but how many people really know much about his own creative input? Published by Rowman & Littlefield, Counting Down Elvis will transform your understanding of the King of rock'n'roll.
Don't just take our word for it – Here is what other people are saying:
"One of the finest Elvis book releases… this century" – Nigel Patterson (Elvis Information Network)
"I'll say it again: Elvis fans will love this book" – Alan Hanson (Elvis History Blog)
"This is Elvis catnip" – Dylan Jones (editor, GQ magazine)
"I recommend this book without qualifications" – Eldon Edwards (Amazon review)
ELVIS BOOK OF THE YEAR 2018 (joint winner) – Elvis Information Network
Top 10 CIRCULATING REFERENCE RECOMMENDATIONS 2018 (ALL BOOKS not just Elvis or music ones) – Booklist.com
"I'm not a great fan of Elvis, but… Duffett has produced a fascinating look at both Elvis and his songs" – Charles Packer (Reviews Graveyard)
"Insightful… expertly conveys the subtleties" – Publisher's Weekly
"A feast for fans… meeting Elvis via Duffett's prose is a scintillating treat" – B. Lee Cooper (Prof., Newman University)
"Five stars… a great read… the author is a true Elvis fan" – RetroHound (Goodreads)
"Shines a light on Elvis Presley's importance as an interpreter of songs" – Bill Kopp (MusoScribe)
"Some 500 notes safeguard the quality… in an impeccable manner" – Peter Jonsson (Pop Diggers)
"Recommended for music and popular-culture collections and anyone for whom Elvis has not yet left the building" – Booklist
"One of the most interesting and informative… in my collection of well over fifty" – Robert S. Harmon (Amazon review)
"Challenged my views and also provided new insights… what more could you want?" – Piers Beagley (Elvis Information Network)
… Want to know more? Sign up for a free report.